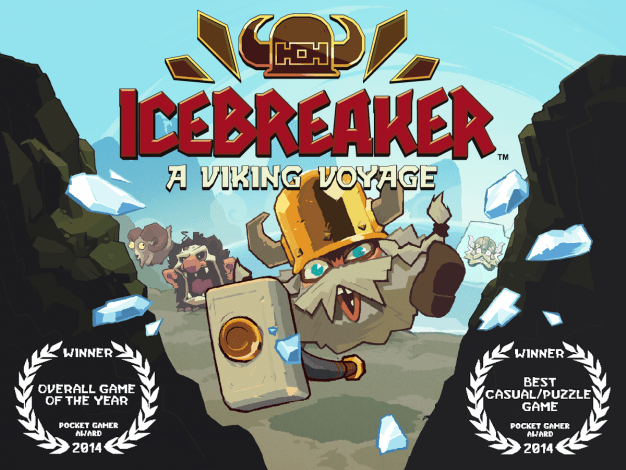 We continue our roundup today with a puzzle game rather appreciated by critics and the public at large, a title that has succeeded on  Metacritic to get in the top 20 in 2013 and to achieve a grade average of 87 : we're talking about " Icebreaker A Viking Voyage " , which has finally made ​​its debut on Google Play for Android devices.
Difficult to describe the game mechanics Icebreaker A Viking Voyage simple words: even just by taking a look at the various videos uploaded on the official channel of the game you can see how the different worlds that we will face are characterized by unique challenges , funny and also quite hilarious . Even Icebreaker A Viking Voyage, as King's League Odyssey, is based on a famous flash game developed by the software house indie Nitrome . 
Features:
• Based on the award-winning flash game by Nitrome, now expanded, updated, and optimized for mobile!
• 140 action-packed levels in three different lands!
• Beautifully immersive world filled with vikings, trolls, deadly theme park rides, and looooots of ice!
• Use special god powers to speed through tricky levels!
• Side quests!
• Unlockable secrets!
• Epic final bosses, including the gigantic Mountain Troll and his legendary indigestion!
Can you seize your destiny and become the new icebreaking champion?
Important Message for Parents
This game may include:
– Direct links to social networking websites that are intended for an audience over the age of 13.
– Direct links to the internet that can take players away from the game with the potential to browse any web page.
– Advertising of Nitrome products.
– The option to make in-app purchases. The bill payer should always be consulted beforehand.
The poor Vikings players in the title were dispersed by an icy wind, leaving them at the mercy of trolls, deadly traps, fierce enemies, we will then make our way to the levels solving puzzles and making way through the ice, using ropes, guns, explosives, mud chickens …! Ben 140 levels with many environments and physical puzzles are always different. In short, a title not to miss, especially since the price was so low, € 0.99(14991). for a limited time . A follow badge for the purchase, two videos and screenshots. Have fun!