La Liga  which has been introduced this year was a season in which the emotions are not missed. The three teams to contend for the title since the beginning of the season, with David (Atletico Madrid) which is likely to tick against Goliath (Barcelona and Real Madrid).
Do not miss some of the best footballers in the world, just to mention Cristiano Ronaldo, Messi, Diego Costa and many others; now you can follow their exploits, or rather, see the highlights of their games directly to YouTube .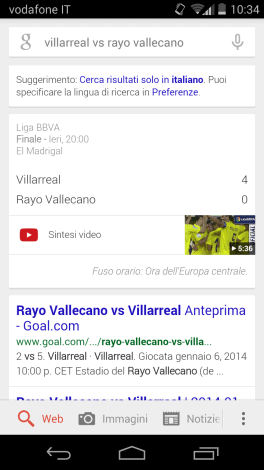 Simply look for the race you are interested, with the names of the two teams separated by a "vs" to get the result and the link to the video in HD: The procedure works with both the Android app and PC.
An initiative definitely nice and comfortable, which will please fans of football, we hope to find in the same way next year also highlights of the Serie A, Premier Leagueand Champions League .
Fast livescore notifications from the La Liga in football to your phone or tablet.Notifications are for FREE !!! La Liga is the app to follow standings, tournament schedule, livescore, topscorer, and more from the Spanish La Liga in football. Follow live matches and get notifications.
It is possible to be notified from live matches. Settings let turn on and off notifications. You can get notifications even when your screen has been turned off.You can also choose your favorite teams and control refresh interval.
The tournament schedule has the complete schedule. The schedule has a paging feature that lets you page between the rounds, jump to the current round, jump to season start and season end.
PLEASE NOTICE: There is also a PRO version of this app available here on Google Play. The PRO version has even more features including goal score on all the previous matches played, red and yellow cards, landscape screens, press the players on topscorer list and get information on when they scored their goals, and more.
Disclaimer : The information in this post may not be 100% correct . We just gave our views about this app.