With projects becoming ever more complex in today's business world, efficiency when collaborating is essential to getting quality results in tight deadlines.
That's why it is no wonder that productivity tools for collaboration are being increasingly specialized and developed in such a way that they serve a specific purpose.
One such tool is a PDF suite called Able2Extract Professional 12  . With Able2Extract users can manage PDF files in a variety of ways. Whether you are looking to convert PDFs to editable formats and edit PDF content on the spot or create PDF forms and customize PDF pages, Able2Extract can help you accomplish all of these tasks with speed and accuracy.
One of the hallmark features of this cross-platform PDF solution when it comes to collaboration is the ability to annotate PDFs.
The feature is implemented in such a way that it greatly extends the simple concept of one team member placing and the other viewing various annotations. We're referring to the ability of Able2Extract to apply chains of comments to annotations and let users review and insert specific annotations.
To help you understand how the feature can help you step up your digital document collaboration game, we'll explain in detail how the annotation panel inside Able2Extract works, what options are available, and how you can utilize them to achieve common goals in the most efficient way when working with a PDF on a team.
Able2Extract's Annotations Panel
The Annotations panel is located on the right hand side of Able2Extract's interface and it consists of 10 options to add an annotation:
Add Sticky Note

Add Link

Add Stamp

Add Highlight

Add Underline

Add Squiggly

Add Strike Out

Add Caret

Add Attachment

Add Watermark
There's also the Delete annotation button, Properties and Comments sections.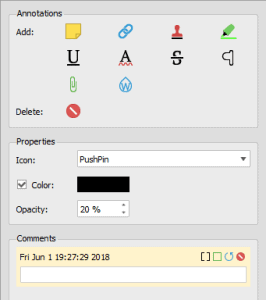 Now, let's take a look at a few examples on how these options can be used to make the most out of what Able2Extract has to offer.
How to Add Link to a PDF
First thing's first – to open a file in Able2Extract you can drag and drop it on the Able2Extract desktop icon or use the Open button in the Command toolbar and browse for the file on your computer. Once the file is opened, look on the right for the Annotations panel.

Add Link is the second option in the first row. Click on the icon that looks like two links forming a small chain and the Add Link dialog will pop up.
There are two options to choose from:

If you want to place a link leading to the specific website or page, choose the first option and type, paste, or drop URL address, and click OK.
To apply the annotation to your document, click on the PDF area and drag the selection rectangle.
With the Add Link annotation applied to the document, anyone working on it can visit the linked URL by left-clicking on it while holding the Alt button on a keyboard. It can be very useful if you want to point out a resource on the internet that can help your team improve the document or just further clarify the message you're trying to convey.
The second, Go to Page option can be used for easier navigation throughout a lengthy document. Choose the page number, fitting and zoom for your annotation, and place it the same way as explained for Go to URL option. With this option applied you essentially created a shortcut to a specific page in a PDF you're working on with your team. To follow the internal PDF link you should left-click it while holding Alt.
How to Underline, Strike Out, and Highlight PDF Text
When you are collaborating on a PDF text trying to make it as best as it can be, these options can be real timesavers.
Choose any of these options from the Annotations panel and drag the selection rectangle over the text to underline, strike out, or highlight it.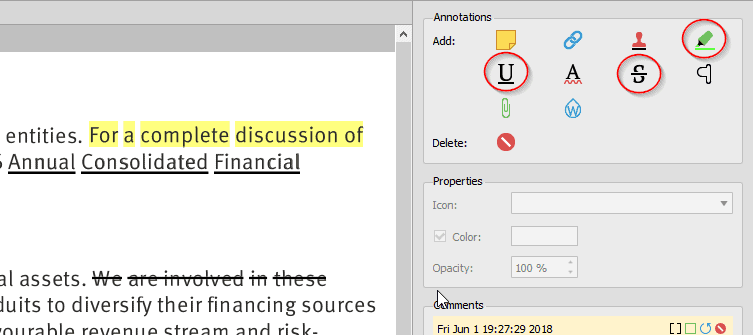 Once you do that, you will notice a yellow note in the Comments section with date and time of the annotation in the top left corner and options for reviewing, marking, replying, and deleting that specific annotation.
Collaborators can use the Review options to signal to team members if the suggestion was accepted, rejected, cancelled, or completed. Mark, reply, and delete options are self-explanatory so we won't go into too much detail about them.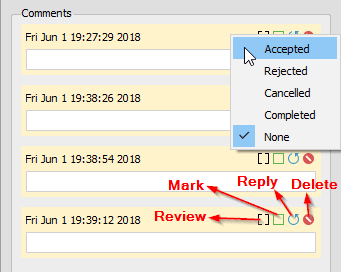 How to Add Attachment to a PDF
When you click on the paperclip icon (first one in the third row), the browsing window will pop up and there you will be able to choose a file for attachment.
Click anywhere on the document to add an attachment. It will be represented by a push pin icon and you can open the attached file by left-clicking while holding Alt. If you want to save the file someone else attached to the document, left-click on the push pin while holding Alt and Shift simultaneously.
All of the attachments can be found in the Attachment tab on the left side of the Able2Extract's interface. You can also open any attachment from there by double-clicking the file from the list, or save the attachment by selecting it and clicking on the Export File button. Take a look at the screenshot below for the reference.
The last thing you should now about Able2Extract's annotations feature is the Properties section. From there you can change the icon of the placed annotation, its color and opacity.
If we got you interested in this tool and its abilities when it comes to PDF productivity, you can check out all of its features on the developer's website. Furthermore, even though Able2Extract is commercial software, you can download a 7-day trial here and explore it for yourself for free.
If you do, make sure to let us know if you liked it and how it can be further improved to suit your PDF workflow.