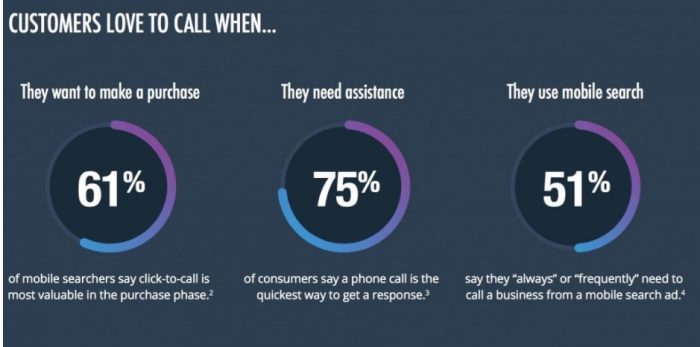 If you are interested in higher conversions and sales, then the Pay Per Call campaigns can be the best for your business. These types of ads tend to work great in most cases and there are a lot of additional benefits included along with the Pay Per Call ads.
In this article today, we are going to talk about some of the benefits that come along when you decide to run a pay per call campaign. These benefits will be almost the same but a little can vary depending on the pay per call network you are working. You can check Pay Per Call Networks List here.
1. Higher Conversion Rates
One of the most important factors that tell if your campaign is a success or not is going to be its conversation rate. If you do not know already, the conversation rate is the small percentage within the whole that converts to a sale. In case of Pay Per Call Ads, your potential customer searched for a service related to your business and most probably that search is being done by a smartphone. Meaning which, you are going to get more, stronger, and quality opportunities here.
Additionally, the conversion rates for pay per call ads have bloomed a lot in recent years.
2. More Revenue
When we are talking about the CPC (Cost Per Click) advertising, it is safe to say that the cost is going to be merely 10% than that of a call (or, the Pay Per Call ads). As a publisher, you can earn a lot more by promoting the pay per call ads than that of the traditional CPC ads.
Although, on the other hand, if your business is quite small or if you have a little tighter marketing budget it may not be the greatest approach for you. Otherwise, it's a great deal in the case of the publishers.
3. The ROI
Just like the higher conversion rates, the ROI is essentially going to be much greater. The best part is, you do not need to hire some "expert" to examine your advertisement color, design and all that. a simple text advertisement can be enough. And because of the higher conversion rates, you are going to pay a pretty standardized amount to get the maximum ROI.
And even if a sale does not occur on every call that you receive, you are going to be left with a high-quality lead that you can invest on later to transform it into a sale.
4. Real-Time Tracking and more Data
Although most of the old school traditional marketing ways now come along with real-time tracking, they still lack tracking the one-to-one personalized interaction which is a pretty big plus point when you are talking to convert almost all of the users that calls.
Almost all of the Pay Per Call networks comes along with advanced call tracking technology that helps you take different measures and convert a lead to a sale much more easily. The traditionally styled campaigns lack this quality meaning which, you are going to get low quality leads to follow up with.
Final Words
Pay Per Call Ads can be a game changer for your business, so it is better to focus on your business type and get started right now.