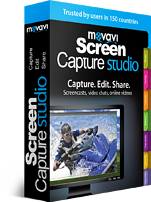 Videos are taking over Images and Pictures on the Internet. People tend to enjoy Videos more then Pictures. May be it can a short vine or a live streaming Sporting Event, People Love to watch videos and prefer it ahead of Pictures these days.
But what if we can capture video from Website that are Streaming live events or just a video sharing sites. Yeah, That would be awesome Right? Imagine recording your favorite moments in the sport Match that you know you can watch it again and again as you will have all the action later on your HDD.
Let me introduce to you a Wonderful Software by Movavi called Screen Capture Studio. This is one great tool that can help you record any video from sites that don't have option to download them. All you got to do is adjust the frame to record whole screen or part of your screen where the video is being played. Then Simply Click REC to start recoding. You can use the timer function which is a great help that this software gives you.
Once you have finished capturing the Video, its time to edit it with this tool if you need it to add any effect or trim some part of the video. After editing, you might now want to save the video. It can save your video in popular media file format. That's it now you have got your video in your HDD that you can watch anytime using your favorite media player. Not to forget the video will be perfect to watch on any device including Mobile smartphones and tablets.
The quality of the video depends on what options you choose while recording, the tool never compromises with the quality and always gives you best quality of videos. This is a very handy software to record and download videos from websites that don't have option to download those videos.