Pleasant surprise for iPhone users & company!  Google released its popular browser Chrome!  for Iphone and IPad,iPod Touch (from version 4.3 onwards).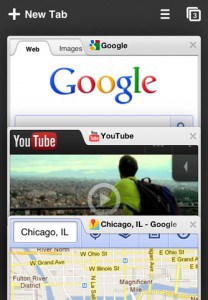 The interface fully reflects both iPad, iPhone than on the "classical" Chrome for Desktop. Already present on Google Search , Chrome offers the ability to search the web using voice search.
In the iPhone version, you can move from one page to another by simply clicking on the top right button on Tab To iPad devices instead, just press a finger at the end of the sides and make a slide to the opposite side.
Very interesting aspect of Chrome for iPhone OS is definitely the "Synchronization". When you open the app for the first time you will be asked to enter your login details of your Google account (although this step is not required). By logging in you will have access to all that is really present on other devices associated with your account: bookmarks, favorites, cookies, browsing data and even open tabs.
See The Video :

Src:technologymania.net
During the course of the second day of  Google I / O, which is being held in San Francisco, Google has officially announced the availability for download of its Web browser Chrome for the iPhone OS-based devices including iPhone and iPad in the first place. The main functions that will allow Chrome, synchronization between devices, browsing the "anonymous mode" and will provide an innovative user interface cards already seen the Android version.
As usual, the version of IOS device does not lack the usual limitations imposed by Apple that will not allow the user to change the default browser setting and even make changes to its rendering engine Webkit.
Google Chrome for iPhone OS-based device is already available for free downloading from App Store :
Download Here
So, with this app Google has entered  iOS world in order to propose the first alternative to Safari, which is quite a challenge since the Apple browser is fully integrated with the iPhone OS ecosystem, but we have reason to think that Chrome will succeed in its purpose and will be perfected more and more.