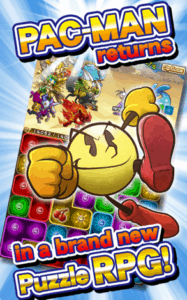 PAC-MAN MONSTERS is One of the most beloved video game heroes PAC-MAN is back in mobile games in this simple free-to-play puzzler!
This is not the first time that Namco Bandai , Japan's famous software company, uses the brand of PAC-MAN to make new titles on mobile platforms:  PAC-MAN + Tournaments, Pac-Man Dash! , and even a racing game, PAC -MAN Kart Rally . This new implementation instead, entitled PAC-MAN MONSTERS , is part of a genre that is particularly fashionable on the virtual store for iOS and Android : The Puzzle RPG .
* PAC-MAN MONSTERS is not supported with ART Runtime for Android 4.4(KitKat).
– Control PAC-MAN with a swipe to gobble up pellets.
– The more pellets PAC-MAN eats, the stronger the attack your fellow monsters inflict on enemies.
– Embark on an adventure with your own team selected from more than 100 unique monsters from all over PAC-LAND.
Simple yet engaging puzzler
– Simply swipe the pellets and PAC-MAN will eat them up! Make a line of pellets in the same color to inflict more damage on your enemies!
Trigger Fever mode to beat ghosts!
– Ghosts are in your way! Eat power pellets to trigger Fever mode and enable PAC-MAN to beat ghosts. The more ghosts PAC-MAN beats, the higher the chance of Fever mode gets!
More than 100 quests to explore
– More than 100 levels await you in the PAC-LAND. Some special limited levels are only available on weekdays. – Challenge yourself to clear all the levels and save PAC-LAND!
More than 100 unique monsters
– Find wonder eggs during the adventure and hatch monsters from them. You can also grow and evolve them to make them stronger. Of course, the familiar character Blinky, Pinky, Inky, and Clyde, also appear! Create your own best monster team!
The latest examples of this?  Block Legend, LINEZETA,  Doctor Who: Legacy,  10000000  (also coming  Godzilla-Smash3 )! PAC-MAN MONSTERSexploits these game mechanics , along with the sympathy of PAC-MAN and its " evolution " to propose a really fun gameplay. The style of play is similar to that of the titles listed: assembling a team of PAC-MAN , which differ for different elemental attacks and evolutions rather peculiar, we will have to face a series of levels of increasing difficulty (more than 100 ) by performing combinations of boxes of similar colors.
We will also have to do with the real opponents of the sympathetic protagonist, the ghosts : occasionally they will end up even just in the boxes to be combined, and we will defeat them just eating the classicpower pills . PAC-MAN MONSTERS is published by Namco Bandai published it on Google Play labelGree . The game is available for free : this is the title of a classic free-to-play supported by in-app purchases . Followed by a movie on the gameplay, some screenshots and the badge for download.Have fun!