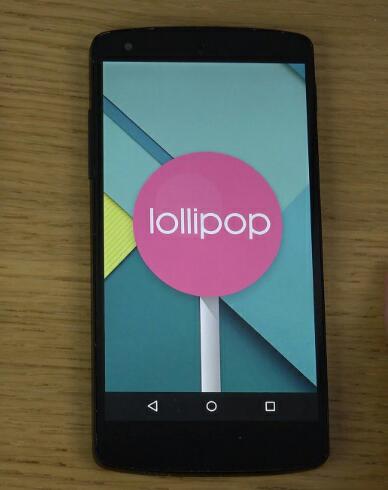 Some good news for the Android fans though. Google took its cheap budget device trial, and make sure the products made available play through Android 5.1 as well.
It was marked at benchmark running the most recent edition of Android. This leaves no doubt that Android 5.1 is going to have a broader release, most probably initiating with the Nexus devices and slates.
Battery life never interesting with NEXUS 5
Getting a Nexus 5 and updating it to Android Lollipop update and wishing for a better battery life is simply going to disappoint you. It is not just a speculation now. Reportedly, benchmark reports have surfaced for the Nexus 5 that takes a dig at the battery life with Android 5.0, and without Android Lollipop. However, the benchmark takes other Smartphone like Galaxy S5, G3, and HTC One M8 as well. The result shows unsatisfying outcome for Nexus 5.
Apart from this, a line-up of tests have been conducted in terms of survival, talk time, browsing, and other aspects. It put in to comparison with earlier edition of Android 4.4 Kit Kat as well. The same set of tests has been conducted for all the above mentioned devices as well.
Survival test of Android Lollipop upgrade:
According to the tests, Galaxy S5 has the survival period of more than 82 hours with Android Lollipop;. Through the process it shows improvement of more than 11 hours in comparison to that on with Android Kit Kat.
The very successful and popular HTC M8 also got an improvement of about six hours with Lollipop in comparison to that of Android Kit Kat. On the other hand, the result was negative with Nexus five. It showed two hours decrease with Lollipop in comparison to that with Kit Kat.
Talk Time:  
In terms of talk time, Galaxy S5 got nice improvement of six hours with Lollipop in comparison to that with Android Kit Kat.
The other device to show disappointment, a little though is the successful G3. Its talk time was shown to be decreased by 16 minutes on Lollipop in comparison to that with Kit Kat. HTC M8 is the other device to offer company with Nexus 5 regarding talk time. Both these shown to be facing scrap in talk time by 6 hours with Lollipop in comparison to that with Kit Kat.
Browsing and Playback:
Coming to the browsing, it was HTC M8 only to show better result. In other cases, the result was pretty as it was earlier.
Coming to the video playback, Nexus 5 and other devices were seen to be facing an hour of loss in playback period. It was only the Galaxy S5 whose battery life seen to be constant after the above test.
Finally:
In short, it's the Samsung Galaxy S5 that drags the best out of the latest Lollipop upgrade in terms of battery life. Others get not so good result, where as the condition seems terrible for Nexus 5.
This is the guest post by Christopher Austin and Parking Games 365!